Fivemiletown Football: 1902/03
AGM
The annual meeting for the club was held in the courthouse with Mr M T Coulter (Northern Bank) was in the chair with a good attendance showing 'No lack of enthusiasm.'
Mr H de F Montgomery was accorded the hearty thanks in placing a field at the club's disposal, rent free.
It was also decided at the meeting to procure a cup to be known as the "Clogher Valley Cup" to be played for during the season by teams of the surrounding district.
A couple of weeks later a couple of items appeared the first saying Aughnacloy football club visited Fivemiletown in 'a spirited match' with the home team winning by three goals to nil.
There was also an item saying 'Football season has commenced right in earnest in Fivemiletown, and several matches are pending.'
 At the end of November a letter appeared in the Fermanagh Times saying that there was talk of a cup competition at the start of the season but as yet nothing has been done, he went on to say, after talking to other clubs, that if it was played with guidance of the IFA Irish Junior Cup rules it would be a success, he also said clubs showing interest were; Fivemiletown, Maguiresbridge, Tempo, Lisbellaw, Aughnacloy, Clogher, Ballinamallard and Caledon.
A few weeks later a letter was published in both Fermanagh papers;

"Dear Sirs,
I have the pleasure to acquaint you that my directors at their last meeting  decided to offer a Clogher Valley Challenge Cup for competition between Association Football Clubs within the area served by the Clogher Valley Railway, between Caledon and Maguiresbridge inclusive. Competition rules may be had on application to the under signed, yours truly.  W. Irwin."
---
 It's March before I find another mention of football in Fivemiletown or the lack of it,
Clogher was to play Maguiresbridge Deadshot's in Fivemiletown, Clogher being disappointed after travelling as the Deadshot's fail to turn up.
This must have been a game in the Clogher Valley Cup as Clogher were awarded 2 points in a goalless draw.
The only actual report on a game involving Fivemiletown I have found to date was a league game which took place in Clogher between the Maguiresbridge Lilywhites and Fivemiletown.
The Lilywhites scored first with F. Roche for Fivemiletown grabbing an equaliser late in the game. 1-1
there were only two other mentions of Fivemiletown first where they were awarded 2 points when the Deadshot's failed to turn up, and the other when they were supposed to play Clogher but the report said this game was unlikely to be played.
The Lilywhites and Caledon were level on points at the end of the season so played each other again to find the overall winner, Caledon went on to win three goals to one.
Up-Date
Found a short snippet on a match between Fivemiletown and Lisbellaw in early December.
No score was made by either side. 
Hopefully, I can add more information to this section in the near future.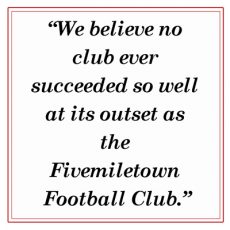 Elsewhere this Season
Orville Wright makes a powered flight with Kitty Hawk, flying for 12 seconds.