Fivemiletown Football: 1903/04
Work to be done
I have yet to find much in respect of football in Fivemiletown this season but I will keep looking and hopefully, something will turn up.
I know there was a Fivemiletown football club as there are a couple of references to them.
Firstly in a game between Crieve Defiance and Crann Quickshots at the end of the report it said
'Crann should form an independent team and not amalgamate with Fivemiletown'
The second reference was in a report on a game between Cavanaleck and Crieve; it stated that
'Cavanaleck has had a few practice matches with Fivemiletown prior to this game'
The search continues  
And Finally
There was a report in the Fermanagh Herald on a match between Irvinestown and Dromore with the match finishing one goal each, the report went on to say 'Irvinestown, without leaving the field, then played Trillick. Which they eventually won by four goals to three.' ...
Playing two matches, back to back, with the solid leather football, their big heavy boots and not a medical bag in sight… Don't get players like that anymore.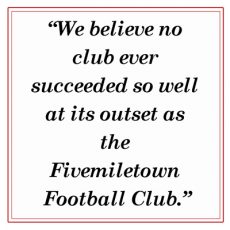 Elsewhere this Season
Number plates are introduced as cars are licensed for the first time. A speed limit of 20 miles per hour is introduced

Number plates are Introduced
1904