Fivemiletown Football: 1949/50
This season, I have found very little conserning Fivemiletown, so far, might have to look further afield.
June 1949 and a meeting of the McCabe cup competition was held in Monaghan, where the teams who have entered were announced including two teams from Fivemiletown, the Blues and the Whites.
McCabe Cup
Clones United 6-2 Fivemiletown
This is the only mention I found so far of this seasons McCabe Cub.
Junior Cup R1
Fivemiletown 4-2 Ballinamallard
The match report started: 'The semi-retired Fivemiletown United' not sure what they meant by this opening statement!
It was Ballinamallard who opened the scoring after only ten minutes, but their lead never lasted long when T. Morrow levelled things up and a few minutes later the same player put the home side ahead. McCaffrey added a third, Ballinamallard then pulled one back but McCaffrey made it four for Fivemiletown just before half time. The report finished by saying: 'Fivemiletown owing to lack of training faded out in the later stages of the game, but the defence, in which Foy in the goal, was outstanding'.
Note Fivemiletown using 'United' for this competition.
In December, Fivemiletown United received a bye in the 4th round in the Junior cup, on the same day the 5th round was also done and Fivemiletown were drawn away to Warrenpoint United.
The following month, early January 1950, I found a report saying: 'There was a big crowd of soccer fans from all parts of the Clogher Valley at the Recreation Grounds Fivemiletown, to see Fivemiletown United and Warrenpoint United play in a friendly match.'
The game finished 3-3 'a fair result' it said.
Seems strange to have a friendly game against your next opponents in the Junior cup, and it's not just down the road either, a good 90 minutes today, must have been a couple hours back then as I think the trains to Fivemiletown had already stopped at this point.
Warrenpoint United 1-0 Fivemiletown United
At the end of January Fivemiletown travelled to Warrenpoint in the 5th round of the Junior cup.
Fivemiletown United had the better of the chances, with Moynagh skimming the bar and McCaffrey hitting the post, but one minute before the final whistle; it was Warrenpoint who nicked the winner
Fivemiletown team: J. Foy, H. Clark, g. Morrow, T. Maguire, J. Williamson, W. O'Malley, H. Morrow, S. Moynagh, G. McCaffrey, J. McNulty and T. Morrow
Mercer cup
Y.M.C.A 3-3 Fivemiletown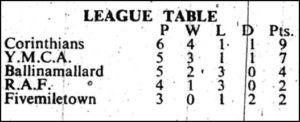 Fivemiletown's first match in this seasons Mercer league.
Note; only using 'Fivemiletown'
Again, the only mention of Fivemiletown in this competition this season.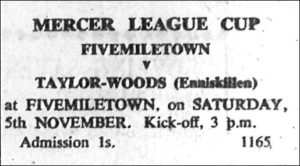 1948/49|  1949/50 |  1950/51