Fivemiletown Football: 1947/48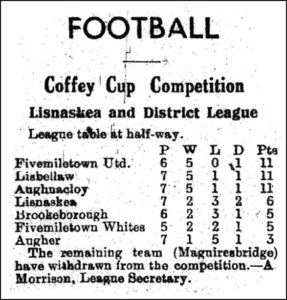 Coffey Cup
Eight teams have entered this year's Coffey Cup competition in Lisnaskea.
Brookeborough, Lisnaskea, Augher, Lisbellaw, Aughnacloy, Maguiresbridge,
Fivemiletown Whites and Fivemiletown United.
This is the first reference I have seen with a Fivemiletown team using the name 'United'
Fivemiletown 3-4 Aughnacloy
'Aughnacloy Rovers defeated Fivemiletown (Not sure which team) in what was one of the most keenly contested matches in the Lisnaskea and District League.'
Fivemiletown United 3-0 Augher Stars
Fivemiletown Whites 1-1 Aughnacloy
Aughnacloy 3-3 Fivemiletown Whites
That's the last set of results I found, but I do know Lisbellaw went on to take the trophy.
---
Mercer Cup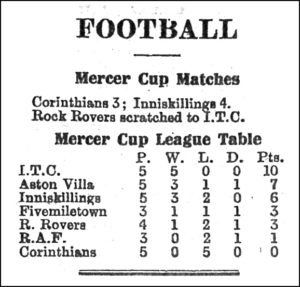 Fivemiletown 2-2 Aston Villa (Omagh)
Notice the 'United' has been dropped again.
Fivemiletown 7-2 Corinthians
---
November 1947
Irish Junior Cup
Enniskillen Y.M.C.A. scratched to Fivemiletown
Corinthians 2-1 Fivemiletown
Fivemiletown was put out in the next round, the newspapers reported:
'Enniskillen Corinthians and Fivemiletown met in the replay of their Junior Cup match.
The teams had previously met in the cup at Enniskillen but the match was abandoned owing to fighting breaking out among several players, and the Irish Football Association had ordered the match to be replayed.'
---
Mercer Cup
Lisbellaw 0-3 Fivemiletown
Fivemiletown were the better team in the first half and went into the break one goal to the good, Lisbellaw improved in the second half and had chances to equalise, however, in the closing minutes of the game, Fivemiletown scored two further goals to run out winners.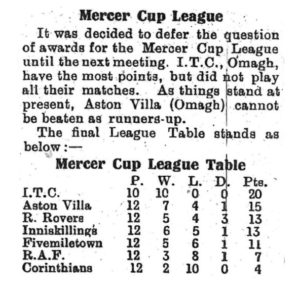 Final Standings,
I'm not sure this is correct, how can I.T.C. have two games remaining, yet all other teams have completed their fixtures!
---
Mulhern Cup
Fivemiletown 6-0 Lisnaskea
Semi-final
Fivemiletown 3–1 Y.M.C.A. Enniskillen
Goals by, McNulty, Williamson and McCaffrey.
Final
R.A.F. Castle Archdale 3-2 Fivemiletown (aet)
The report said:
'Helped by the vocal support of many hundreds of fans who travelled from Fivemiletown, Maguiresbridge and surrounding districts, Fivemiletown were unlucky to lose in the final.'