Fivemiletown Football: 1919/20
League back up and running 
The Mercer Cup Competition had only 8 teams at the start of this season, and Fivemiletown was not amongst them they didn't join until a few weeks after the competition had started, and by the end of the season, it would be back to 8 again, with Enniskillen Comrades pulling out in mid-February.
Omagh Wanderers would go on to win the first season since the war, by a single point, with Enniskillen Corinthians in second place. 
---
On the 24
th
October 1919 a Council meeting of the Fermanagh and Western District Football Association was held with Mr J. H. Charlton, chairman, presiding. The secretary reported that eight clubs had entered the league competition.
Comrades of the Great War
The annual meeting of the Fivemiletown Post of the Comrades of the War was held in the courthouse on Thursday 13th November.
Mr Hughie Montgomery addressed the meeting and announced his attention of giving them a football ground. It was decided to start a football club, and comrade Cameron was appointed the captain.
Two days later on the 15th November, they played their first competitive game, under the name 'Fivemiletown Comrades' and I would presume, made up of ex-servicemen.
All the other teams had already played two games.
Fivemiletown Comrades 2-1 Enniskillen Corinthians
A very good result for their first game against one of the favourites to win the league, both Fivemiletown goals coming in the first half courtesy of Morrison and Gillespie, other players mentioned; Cameron and the keeper McCausland.
Fivemiletown Comrades lost their next two games, away to Fintona 4-2 then at home against Duke of Cornwall's 3-2. Next up was an away trip to Irvinestown and picked up a well-earned point in a 1-1 draw on a rather windy day, Cameron scoring from a penalty, then lost their next home game 4 goals to nil against Omagh Military.
---
New League
In December there appeared a short report on a new league.
'It has been decided by those interested in association football in South Tyrone to form a South Tyrone and District League'
---
Boxing Day 1919 and a friendly match took place in Fivemiletown between Fivemiletown Juniors and Murley Rovers.
The ground was reported as being
'in a bad state for playing'.

Murley scored early in the first half, and the rest of the game was fairly evenly contested, with both keepers being called on several times. The game finished Murley victors by one goal to nil.
Later the same evening, a dance was held in Wallace's Hall in connection with Fivemiletown Comrades, and songs were contributed during the evening.
Fivemiletown Comrades 5-2 Fintona
Into the New Year and the second half of the season kicked off with Fivemiletown Comrades hosting Fintona. The report again commented on the pitch, saying; 'the field was very heavy and wet and in very bad order for a match'.
It only reported a few names of those who played, Hetherington, Armstrong, Gillespie, Morrison and McKenna all scoring and Connolly clearing his lines (Fivemiletown keeper).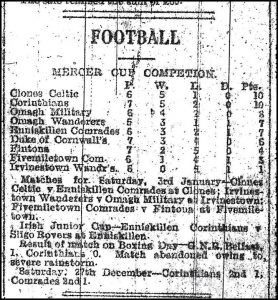 Mid-way through the season
Fivemiletown 'Scratched' their next match, away to Omagh Military.
The next match was a home fixture when Fivemiletown Comrades beat Enniskillen Comrades, but I was unable to find the score. (I know they won as they gained two points on the tables)
Fivemiletown Comrades 1-2 Clones Celtic.
The end of January seen Clones Celtic arrive in Fivemiletown for their next league fixture.
Clones scored first on a very windy day but the report went on to say Fivemiletown played some great football, 'Kyle passed to Morrison, who sent out to Cameron, who in turn passed to Jim Martin who scored with a lovely cross-shot' It also went on to say 'Cassidy, one of the home backs, had to retire, being injured, and Hamilton, centre-half took his place for ten minutes until his return'.
During this time, Clones were awarded a penalty, which Connolly saved well, only for Clones to poke it home in the follow-up.
A very poor game
Corinthians 8-1 Fivemiletown Comrades.
An away trip to forget I think, with possibly the worst performance of the season.
With Fivemiletown winning the first meeting this was expected to be a good match and it started well for Fivemiletown when they were awarded a penalty early on, Gillespie taking the kick only for their keeper to make a 'fine save'. Corinthians score two quick goals before Morrison pulled one back just before the break, but the second half all belonged to Corinthians scoring another six.
The report concluded; 'it was a very poor game. Fivemiletown are a strong combination on their own ground but evidently, they leave all their courage at home, as they put up a very poor show'.
I haven't  found any information on Fivemiletown's next game, apart from gaining two points in the tables, so a victory, but against whom?
And their next fixture, they 'Scratched' again, this time against Omagh Wanderers, must be something about Omagh…
Little is known at this point about the next match, I can tell you Fivemiletown travelled to Enniskillen to take on Duke of Cornwall's and won the game but that is all I can find at present.
St Patrick's day friendly 
The next report I found was on the 17th March when Fivemiletown Comrades travelled to Brookeborough to take on the local team in a friendly match, resulting in a win for Fivemiletown by three goals to one, with Hetherington, Martin and Morrison the goal scorers for Fivemiletown.
Fivemiletown Comrades 3-1 Irvinestown wanderers.
Bottom of the table Irvinestown travelled to Fivemiletown for the penultimate game of this season, the report said 'play was fairly even in the first stages, both keepers being called on in turn. After twenty minutes play, Martin sent in a lovely centre from the left wing, and Hetherington sent in a low fast shot which the Irvinestown keeper saved and kicked out, only for Hetherington getting possession and sent in a cross-shot giving the keeper no chance to save'. And it wasn't long before the roles were reversed, this time from a corner, 'Hetherington placed the ball well and Martin headed through'.  
Irvinestown pulled one back from the penalty spot when the Fivemiletown keeper, Connolly, saved it but slipped and Irvinestown bundled the ball over the line. But it was the Martin and Hetherington combination that finally clinched the points, 'Fivemiletown then broke away and Martin sent in a nice pass from the left for Hetherington to add the third goal'.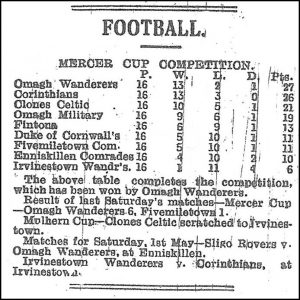 Our final game of the season was against Omagh wanderers, I presume it was at home, although it doesn't say, not sure what happened to Fivemiletown as we were on the bad end of a six one thrashing.
Where too?