Fivemiletown Football: 1900/01
Fivemiletown Football Club
At the end of October, there was a meeting to inaugurate a football club for the coming season and was held in the courthouse.
Office bearers were appointed, and subscriptions handed in.
The ground is again kindly placed at the disposal of the club by Mr H de F Montgomery, D.L.
The following week an item appeared in the papers saying the above club wishes to arrange matches with other teams. Kindly communicate with Mr Patrick Roche, hon sec.
Plenty of Praise for the Club
The first game I found this season took place in Fivemiletown on New Year's Day with a friendly game against Brookeborough, the short article said 'The home team played a good game and won easily by five goals to nil'
Ballinamallard football team were the next to visit Fivemiletown for a friendly, the report said 'Good sport was noticeable, and the Ballinamallard team played well but the home team seemed to be able to hold their own' all was going well until Fivemiletown scored their second goal which Ballinamallard disputed. The report went on to say 'More was said than done to mend matters, and the visitors refused to continue to play under the circumstances,' the referee declared Fivemiletown the winners by two goals to nil.
---
Vs Army 
A couple of weeks later the 5th Royal Irish Rifles came to Fivemiletown to engage in a friendly tussle, in the presence of a very large attendance of spectators. The ground was reported as being in a very bad condition for a fast game, however; it went on to say 'As never in the neighbourhood has a better exhibition of football been given.' The game finished with two goals apiece.
The report finished with this sentiment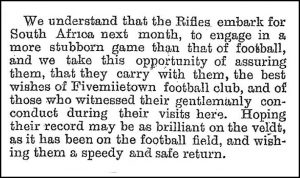 ---
Fivemiletown Walk
Fivemiletown travelled to Brookeborough which was reported 'The first half was very hotly contested and was remarkable for exceedingly rough play' no goals were scored in that half.
In the second half, Fivemiletown showed 'Superiority' and with about five minutes remaining McKenna for Fivemiletown notched a goal, which, although allowed by the referee was strongly objected to by the homesters, owing to this Fivemiletown declined to take any further part in the match. The report said 'The game, from start to finish, to say the least of it, was disgusting' it went on to say that 'The sooner Brookeborough would realise that the game of football is played under a certain number of scientific rules, the better.'

---

Even poetry is being written about the club
---
Fivemiletown went to Tempo for a friendly and the report said the game from start to finish was well contested and remarkable for fast good play. Finished 1-1
The Fermanagh Times reported that the Inniskilling Fusiliers football team from Omagh came to the town to play the local team.
The ground was very damp due to the incessant week's rain, but nevertheless, a good handy game was witnessed by about 'a thousand spectators.'  The game ended 2-1 to Fivemiletown.
The report went on to say 'This is the last game of the season for the Fivemiletown team, and they never were more satisfied or enjoyed a better game than that played with the soldiers.'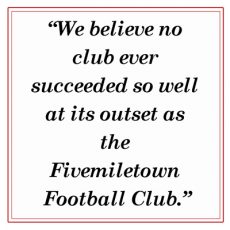 Elsewhere this Season
Queen Victoria dies at Osborne House on the Isle of Wight. She is 81 years old and has served as monarch for nearly 64 years