Fivemiletown Football: 1889/90
Quiet Season for Fivemiletown Football Club
Haven't found much so far for this season,
I did find a game against Colebrooke in Fivemiletown, with the home team going on to win four goals to one.
It was also reported that H de F Montgomery, Mrs Montgomery and family and a few other distinguished names were down watching the game.
Tactics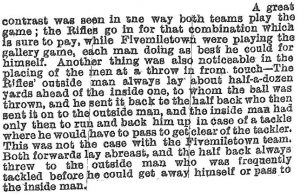 The Kings Royal Rifles returned to Fivemiletown in October in an unceasing downpour of rain the Rifles came out the winner by 7 goals to 2. The match report seemed to talk a lot about tactics more than the game.
Rough Game
November and Fivemiletown had Augher arrive by train which resulted in a draw with the return game being played in Augher at some future date.
The report mentioned
'A great deal of unnecessary roughness was exhibited during the game by both sides, Fivemiletown being the principal offenders'  
And went on to say
'The forwards only played middling and often played better, a great many chances about goal having been thrown away'    Nothing Changes
Interesting 
Found an interesting snippet reporting on a game;
Lisnaskea 2nd XI v Fivemiletown 2nd XI
(I Believe both teams are youth/junior)
this match was played on the Lisnaskea grounds when a very pleasant game ended in a draw of two goals each.
Some of the other clubs mentioned this season are
Maguiresbridge Socials, Lisbellaw Royal Stars & Mountcharles Temperance Fc
1888/89  |  1889/90  |  1890/91