Fivemiletown United Football Club opens own ground
Fivemiletown United football club wrote a new chapter into its growing history book on Saturday 31st July 1993 when it officially opened its new pitch and changing rooms.
---
The club had bought a three and a half acre site next to the Cooneen Textiles factory.
The set up includes changing rooms, dug-outs and stands capable of holding several hundred spectators. The whole thing to-date has been self-financed to the tune of £60,000 which is a tribute to the efforts and forward thinking of a very hard working committee.
---
The day had a carnival feel with plenty to do for all ages including swing-boats, bouncy castles and games, that evening there was an open-air disco and even a marching band.
The new pitch was tested over the next couple of weeks with pre-season friendly games against; Omagh town, Hanover, Dungannon Swifts and Ballinamallard.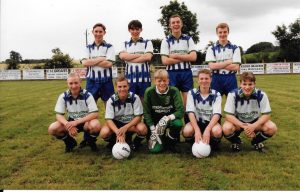 ---
Guest of honour was Leeds United and Scotland star Billy Bremner who officially cut the tape in front of a large crowd,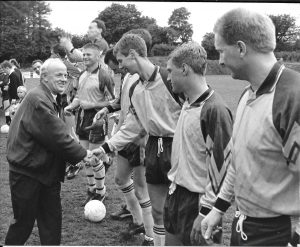 Billy flew into Northern Ireland at short notice to fill in for former Northern Ireland and Ex-Manchester United defender Jimmy Nicholl who unfortunately had to pull out.
The day kicked off early with lunch for the hosts Fivemiletown United and their guests, Irish League club Larne and two Milk cup side, Fermanagh and Tyrone. There Billy told jokes, chatted about his football days with the famous Leeds side and world cup duty with Scotland. Billy went on to answer questions on his career and the great players he played with and played against during his years in the English league.
The showpiece of the evening was the visit of Larne to Fivemiletown. With the two teams on the pitch; Raymond Clarke thanked Larne for travelling to Fivemiletown for the game as part of their pre-season build up. He also paid tribute to the clubs sponsors and the workmen at the ground who had worked so hard in the past few weeks.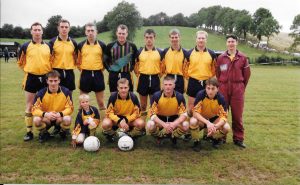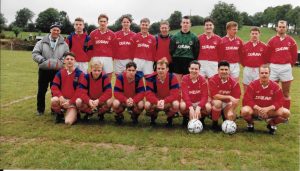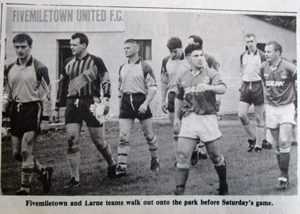 I am uncertain of the final score of this match, but I do know at one stage Larne was winning six goals to one, Ken Kerr scoring for Fivemiletown.
---
Star of the show Billy Bremner, thanked Fivemiletown United for giving him the opportunity to visit the Clogher Valley and said:
"Fivemiletown United have a dream and I hope that dream comes true to make Irish league football"
He then cut the tape and declared the ground officially open in front of an estimated 400 crowd.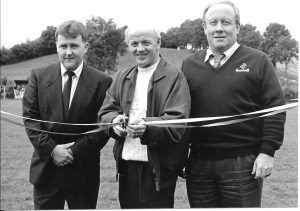 And Finally 
On this day:
John Major was Prime Minister and Bill Clinton was the US president.
Take That – Pray, was at number 1 on the charts and 
Hocus Pocus was the most Popular Feature Film
 1992/93 |  Grand Opening |  1993/94