Fivemiletown Football:

1939-45
The War Years
1939/40
On Easter Monday 1939, Fivemiletown travelled to Monaghan (this was a return match)
'After a keen game,' Monaghan emerged victors by five goals to two.
June and Aughnacloy travelled to Fivemiletown on a Monday night in an inter-league game.
Fivemiletown winning by one goal to nil. T. Breadon the scorer.
Telegraph Shield (Youth Competition)
Lisbellaw 0-2 Fivemiletown
Enniskillen Boys' Brigade 5-0 Fivemiletown
Fivemiletown 0-0 Enniskillen Scouts
---
Lisnaskea and District League - Or as it's better known The Coffey Cup
The Coffey Cup originated in 1939 when Rev Hubert Coffey decided that the pitch his family had created on the Derrylin Road on the outskirts of Lisnaskea could play host to a football tournament.
So while he was studying in Dublin – at Trinity – he set the wheels in motion by purchasing a trophy and then encouraged the creation of Lisnaskea Blues.
Along with Fivemiletown, Enniskillen, Lisbellaw, Lisnaskea, Clones and Maguiresbridge all entered the competition in this inaugural year.
Clones Celtic v Fivemiletown Blues
The first report involving Fivemiletown (Known as Fivemiletown Blues for this competition) was in July when they travelled to Clones Park to take on Clones Celtic in the first round.
And it turned out to be quite a game, being reported as 'easily the fastest game of the season' 
Clones pushed hard straight from the start and were rewarded with a quick goal which must have unsettled Fivemiletown as a short time later a rash tackle in front of goal resulted in Clones being awarded a penalty from which they scored, 2-0 Clones.
After this Fivemiletown settled down and defended well with Clones appearing 'less careful' with their two goal advantage, the match was a quick end to end game but it took T. Breadon to make the breakthrough for Fivemiletown, first goal for the visitors, this put 'more heart' into Fivemiletown and a few minutes before half time Mills equalised, H/T 2-2.
The second half picked up where it had left off, the 'tussle went backwards and forwards' then suddenly from a difficult angle, Clones fired in a low shot, Cullinan (Fivemiletown) attempted to block but only succeeded in putting the ball into his own net, Clones back in front.
Clones were now in full swing with Fivemiletown putting up a valiant defence when again Clones were awarded a penalty and scored 4-2 Clones.
Fivemiletown stormed forward putting a lot of pressure on the Clones defence but as Clones cleared, Williamson hit a beautiful long shot from the left wing into the Clones net making it 4-3.
Fivemiletown had their tails up and attacked again and again, persistence paid off when McMahon succeeded in equalising.
The last ten minutes of the game was a fierce struggle to grab the winner but the game finished with 4 goals apiece
Playing for Fivemiletown;
Foy, Carruth, Brown, J. Breadon, Graham, Cullinan, Williamson, Hackett, Mills, McMahon and T. Breadon.
Clones 3-1 Maguiresbridge;
Maguiresbridge travelled to Clones for their first meeting in this competition, the report said both teams 'showed a good exhibition of the game'
Not a great game
Maguiresbridge 3-0 Clones
A week later Clones travelled to Maguiresbridge in the return fixture. It was reported in the Impartial Reporter that this was the 'most unsatisfactory' game so far and went on to say that it was played in a very 'unsportsmanlike manner' and was a 'poor exhibition of football'.
The game was only underway for ten minutes when the ball burst and no other ball was available, it took 30 minutes to obtain a replacement.
As the second half started the game was again held up for another 15 minutes due to 'very heavy rain'. The entire playing time took about 50 minutes instead of the usual 90.
It also reported that the antagonism of the Maguiresbridge supporters towards the visiting team, the encroachment by the crowd on the Clones goal, upon these and several other grounds it is understood that Clones have lodged a protest demanding a replay of the game.
If this protest went ahead I was unable to find any mention of the outcome.
Other scores in the competition;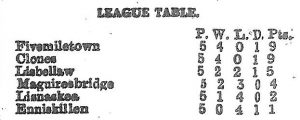 Fivemiletown 6-1 MaguiresbridgeLisbellaw 2-1 Lisnaskea
Maguresbridge 1-0 Enniskillen
Clones 1-0 Enniskillen
Lisnaskea 3-4 Clones
Maguresbridge 2-3 Lisbellaw
Fivemiletown 6-1 Lisbellaw
---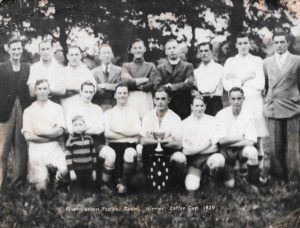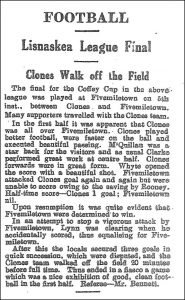 ---
'The outbreak of war has affected football in our locality and this season, owing to traveling difficulties, the normal league competition will not be held.'  Said a report in the Impartial Reporter, it went on to say, 'At a meeting of the Fermanagh and Western Football Association on Tuesday evening, presided over by Mr M. Headon (Chairman), it was decided to play a local league competition for the Mercer Cup, all matches to be played in Enniskillen.
---
Irish Junior Cup R1
Enniskillen United 3-2 Fivemiletown (aet)
'Some good football was witnessed at this game,
' with the score level at 1-1 at the interval, Enniskillen managed to get the advantage and held on until the closing minutes when Fivemiletown equalised taking the game into extra time where Enniskillen score the decisive goal.
Names mentioned for Fivemiletown: Brown and T. Breadon
---
1940/41
Fivemiletown 3-7 Linfield Arrows
Easter 1940, before a large crowd at Fivemiletown on Easter Monday, a team from Belfast 'Linfield Arrows' defeated the local team by 7 goals to 3.
It was an interesting match with the visitors having the slight advantage at the break leading 3-2 but in the second half the home side could make little of a much superior team.
Fivemiletown 1-1 North Irish Horse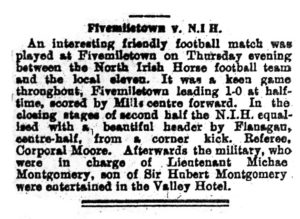 April 1940 and a friendly midweek match was played.
A keen game throughout, with Fivemiletown leading at half time, scored by Mills.
In the closing stages of the second half the N.I.H grabbed the equalizer.
Afterwards the military who were in charge of Lieutenant Michael Montgomery, son of Sir Herbert Montgomery were entertained at the Valley Hotel.
Fivemiletown 2-1 R.U.C Depot
A week later and another midweek friendly 'with both teams giving their best'
It was McMahon with a brilliant cross shot to put Fivemiletown into the lead at the break, shortly after the restart T. Mills doubled the score.
R.U.C managed to get one back with 'with a long fast drive from 18 yards'
Fivemiletown 4-0 Corinthians
9th May 1940, I believe this was a friendly match.
Scorers: B. Rooney, P. McMahon, T. Mills and an own goal.
September 1940 and it was reported there would be 8 teams entered into the new seasons Mercer Cup competition.
They are four military teams, one police team and three civilian clubs.
---
Mercer League
Fivemiletown 0-1 Pelicans (Military Team)
Playing for Fivemiletown: Foy, McMahon, Brown, Torrens, Hackett, Cullinan, McNulty, Rooney, Mills, Burleigh and Williamson
Fivemiletown 6-1 Corinthians
Fivemiletown 1-0 Lisnaskea Foresters
McNulty scoring for Fivemiletown and both team missing a penalty.
Fivemiletown: Foy, Hackett, Brown, J. McMahon, Burns, Cullinan, P. McMahon, Morrow, McNulty, Williamson and Jones.
Lisnaskea: Davis, Ingrim, Skelton, Breadon, Bowles, Redfern, Parker, Newman, Lowry, Broughton and Brooks.
Fivemiletown 3-2 Corinthians
Fivemiletown move into second place in the league with this win
Clogher Casuals 1-4 Fivemiletown
End of October and after 5 games Fivemiletown move to the top of the table
Fivemiletown 1-3 Pelicans
This game was played in Fivemiletown, as was the first meeting, possibly because some military team would not have a pitch of their own to play home fixtures.
A new team has joined the league, 'White Rose XI' (147th Field Ambulance)
 Enniskillen United 2-2 Fivemiletown
'A stern struggle resulted in a draw'
Lisnaskea Foresters 6-1 Fivemiletown
No information on this game other than Fivemiletown drop back into 5th place after this defeat.
Fivemiletown – Clogher Casuals
The report stated this game ended as a draw, neglected to say if any goals were scored.
R.U.C Depot 2-2 Fivemiletown
White Rose XI 2-2 Fivemiletown
Fivemiletown 7-2 R.U.C Depot
---
February 1941
White Rose XI 4-0 Fivemiletown
Fivemiletown 1-2 Foresters A
There are two teams in the league with the name Foresters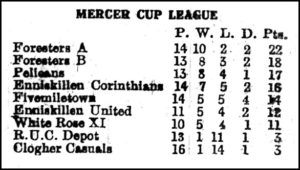 Lisnaskea Foresters & Enniskillen Foresters
the local papers (Impartial Reporter & Fermanagh herald) have decided to call them Foresters A & Foresters B, unfortunately I can't tell which is which.
Not sure if this game is a friendly or part of a competition, possibly District Cup
Fivemiletown 3-3 Army XI
It was reported that on the 26th April 1941
the return match between the above teams was played.
Fivemiletown were without the following players due to sickness: Graham, J. Breadon and Foley.
Fivemiletown went into a 3-1 lead with goals from McNulty and two penalties from McKeown (Cliftonville)
---
District Cup
Fivemiletown 4-0 Clogher Rangers
The report said;
'after a full 90 minutes the Rangers suffered defeat by four goals to nil. Had it not been for the assistance of three military players and one Cliftonville player the score would have been quite different'
It went on to say;
'T. Breadon headed in the
first goal this was followed by the centre-forward scoring three goals, completing the hat trick'
Fivemiletown 4-2 R.S.F
Mulhern Cup
Fivemiletown 4-2 Army XI
According to a report in the Impartial Reporter, 'One of the most exciting games played in Fivemiletown this season'  was a game between Fivemiletown and an Army XI in the 2nd Round of the cup.
Fivemiletown: Scallon, McKeown, Dale, Cullinan, J. Breadon, Graham, T. Breadon, McNulty, Hackett, McMahon and White.
The Army scored inside the first five minutes by Sergeant Wiseman, Fivemiletown equalised with 'A fast shot' by White.
The Army scored again only for Fivemiletown to level again, that's how it remained at the final whistle, 2-2 and it was decided to play an extra 20 minutes extra time, McKeown then scored two penalties leaving Fivemiletown as the winners 4-2
The Semi Finals
the first Semi-Final was The Waggoners (Enniskillen!) Vs Army XI.
The Waggoners, hot favourites for the cup, suffered a server set back when they were defeated by an Army XI, with the Army scoring two goals in the first half and another four in the second to win by six goals to nil.
The other Semi-Final was the Corinthians Vs Fivemiletown or as the paper put it the 'Blues' and the 'Whites', this game was held in Enniskillen in front of a large crowd who saw Fivemiletown come out on top by the only goal scored in the game. The Corinthians had a chance to equalise when they were awarded a penalty but unfortunately put it over the crossbar.
Final
'Presentation
A pleasant ceremony took place just before the final, when Mr. A. M. Steen, Clogher, presented a braided horse shoe decorated with the club colours to the captain of the Fivemiletown team, Mr. Johnnie Breadon. Mr. Steen wished him and his team the best of luck in the final.
Impartial Reporter 6th June 1941
The Impartial Report on June 5th, 1941 recorded the satisfaction felt about the Mulhern Cup success:

'Fivemiletown Team Victorious
Fivemiletown football club realised a cherished ambition on Friday evening when they won the Mulhern Cup, a distinction that has eluded them for a number of years.
The duties of secretary of the club for some years past have been ably carried out by Mr. Thomas N. Morrison, who has installed wonderful enthusiasm into the team and despite limitations in its size, this Clogher Valley town always has been able to field a team of worthy cup-fighters.
Fivemiletown's opponents in the cup final on Friday evening were an Army XI. The match was played on the Broad Meadow, Enniskillen, before a large attendance.
The Clogher Valley team fielded a strong side, captained by Jonny Breadon, and their opponents included many experienced players. The Army side, however, were unable to withstand the dash and determination of the Fivemiletown team who ran out winners by two goals to nil.
The first half was scoreless, but midway through the second half the large crowd of Fivemiletown Supporters were able to give vent to their feelings when Tommy Breadon, brother of the Fivemiletown Captain, scored for the Clogher Valley team. About ten minutes afterwards Fivemiletown's outside right put the issue beyond doubt when he scored a second goal, to leave Fivemiletown winners by two goals to nil. More goals, undoubtedly, would have been scored but for the outstanding display of both keepers.
At the conclusion of the game there were wild scenes of enthusiasm when the Fivemiletown players were carried shoulder high off the field.
Congratulatory speeches were made and Mr. John Breadon expressed his pleasure at captaining this successful team.'
Fivemiletown 3-1 Army Xi
The following month the two teams met again, and again it didn't say if this was part of any competition, might not be the same Army Xi.
---
It also reported:

'Presentation of Cup and Medals
Before the match the Mulhern Cup and medals were presented to the captain of the Fivemiletown team and players by Canon Tyner who congratulated the Fivemiletown team on winning the cup.
Both teams marched to the field headed by the Fivemiletown pipe band under the leadership of Pipe Major Sammy Wright and also paraded the town after the match and returned to the Valley Hotel where a supper was served. After which a social hour was spent, the Cup filled and a round made of both teams and guests.
Lieutenant Beck returned thanks on behalf of the Army team.
Another presentation, on behalf of the Fivemiletown team Mr. John Breadon (Captain) presented a pipe in case suitably engraved to Mr. A. M. Steen, Clogher, and a keen supporter of the Fivemiletown team and also an old player of the team.

---
1941/42
Fivemiletown 2-6 Army XI
The first match I found of the new season involving Fivemiletown, was a friendly on the 7th July in Fivemiletown against an Army XI.
'The report said Fivemiletown turned out with a very poor team' 
The Army XI were to strong and scored 6 with only 2 in reply scored by T. Breadon and Joe McNulty,
other names mentioned; Cullinan, J. Breadon and  Graham.
Fivemiletown 1-2 Army XI
A few days later on the 12th July an Army XI came to town again for another friendly game, most likely a different Army XI, Fivemiletown lost this game as well but with a more respectable score line of 1-2, McKeown scoring for Fivemiletown.
---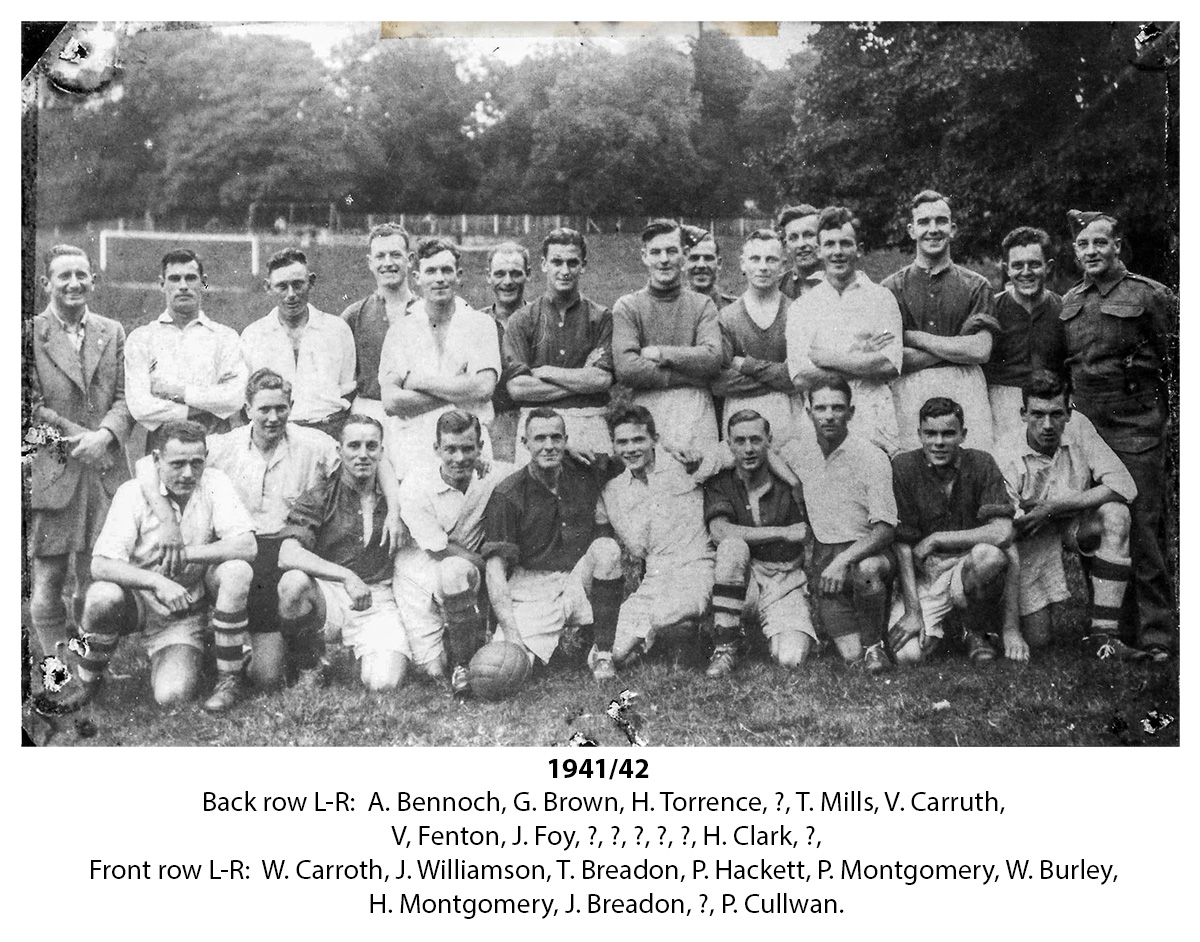 Mercer Cup
Fivemiletown 1-5 Field Ambulance

September seen the opening matches of the Mercer Cup, with Fivemiletown at home against the 141
st
Field Ambulance, Fivemiletown going down 1-5.
Fivemiletown 4-4 Enniskillen United
At the end of September we took on Enniskillen United at Fivemiletown, with the match finishing 4-4, unfortunately no information on the game.
Corinthians 2-2 Fivemiletown
The first away game I found was a trip to Enniskillen to take on the Corinthians.
the report said 'For the greater part it was an uninteresting match'
Fivemiletown were two goals down going into the last 15 minutes when they won a penalty and Johnston scored, Fivemiletown pushed forward and the outside left scored the equalizer.
Fivemiletown 3-0 Beefeaters
---
Irish Junior cup R1
Fivemiletown 0-2 Enniskillen United
---
Mercer Cup
Fivemiletown 0-1 'Y' Army Unit
the report said;
'a good match took place on Saturday at Fivemiletown in the Mercer Cup League. Both teams gave a good exhibition of football'
Fivemiletown 2-0 Tullycleagh Albion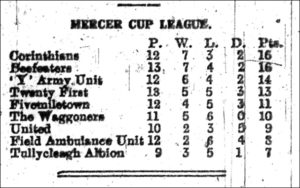 Fivemiletown secured another win beating a new team to the league, Tullycleagh, Tony Maguire opened the scoring in the first half and the second goal nicely taken by 'Tit' Breadon. The report concluded;
'The outstanding players for the home side were; T. Breadon, J. Breadon, H. Graham and Paddy Hackett. Foy, who has returned from England, took up his old position in goal but was not troubled much.'
Field Ambulance 4-4 Fivemiletown
The match report read,
 'Fivemiletown on Saturday travelled to play the Field Ambulance Unit. The former team were short of five of their best players and Johnnie Breadon, the captain, had to call on the services of six players of the juniors and landed home with one point, the score being four goals each.'
'In the first half the military were leading by two goals, but before the finish of the first half Dorothy, for the visitors, headed in from a free. Shortly after 'Tit' Breadon equalised with a fast drive. When the whistle sounded for the half time the score was two goals each. During the second half Breadon again right through single handed and scored number three for the visitors. Doorish from a smart tight wing pass by Maguire added number four for Fivemiletown. The Valley men were unlucky three minutes from full time, Paddy Hackett heading through his own goal. Another mistake gave the Ambulance team a penalty kick.'
The Fivemiletown team: Clark, Morrow, Hackett, P. McCaffrey, J. Breadon, T. Maguire, J. McNulty, J. Breadon, Dorothy, Doorish and Clinging.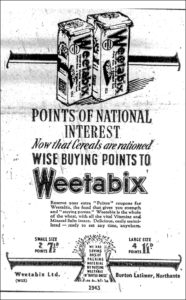 Beefeaters 4-0 Fivemiletown
Fivemiletown 2-3 Waggoners
The Waggoners opened the scoring within a few minutes, but shortly after 'Dorothy equalised with a deadly shot.'
Fivemiletown's other goal came from a penalty scored by Paddy Hackett.
Other names mentioned; H. Graham, J. Breadon, J. Williamson, Irvine, T. Breadon and McNulty.
Fivemiletown 6-4 Twenty First

Fivemiletown 1-1 Corinthians
February 1942
Corinthians already winners of the Mercer league, traveled to Fivemiletown for thier last game of the season and was reported as 'a well contested game'
McNulty scoring for Fivemiletown.
---
Mulhern Cup
Thirteen clubs entered the Mulhern cup this year
Fivemiletown got a bye in the first round, but in the second round were up against a very strong Army XI, Fivemiletown losing 2-0.
---
1942-1945
Unfortunately, I have found next to nothing regarding Fivemiletown Football,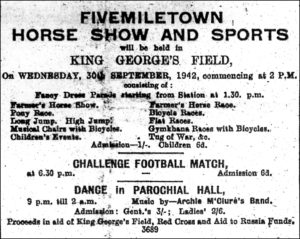 I did find that in September 1942 at the Fivemiletown Horse show and sports, there was a challenge match, but I could not find out who took part or even if it actually took place.
---
November 1943
the league tables show only 5 teams in this seasons Mercer Cup.


November 1944
Found this report from the Impartial Reporter, which mentioned some top players of the day;
Click image to enlarge 
---
In
September 1945
I found a report stating that this year's first round of the Intermediate Cup was held in Fivemiletown between 15
th
South Stafford's who defeated R.A.F. Castle Archdale by five goals to three.
October 1945 and Fivemiletown were due to have played Corinthians at Enniskillen in the first round of the Junior Cup, but were unable to travel.
---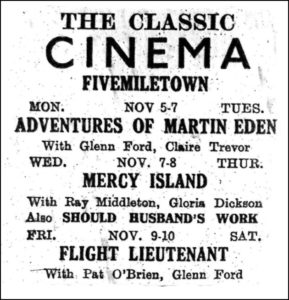 And Finally
Little bit of interesting town history: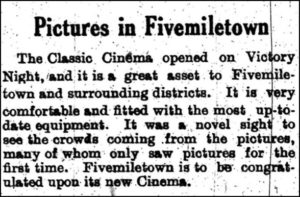 1938/39 |  1940/45 |  1946/47